July 2022
This is the Winter Harbour July 2022 Fishing Report, as published in Island Fisherman Magazine, which we highly recommend!
Let's get the broken record part out of the way first. Lingcod and halibut fishing has been absolutely spectacular in the Winter Harbour area so far this season. While the average halibut size seems to be down marginally, they are abundant and accessible. The lingcod fishing has been absolutely world-class. As we have reported extensively, swim-tail jigs are hard to beat. The most productive structure seems to be the 175′ to 225′ deep rocks closest to deeper water. Virtually all the nearshore structure around Lawn Point, Kwakiutl, Kains, Lippy, and Top Knot is producing.
Chinook are a little harder to predict this summer, as we did see quite a dramatic timing shift last season.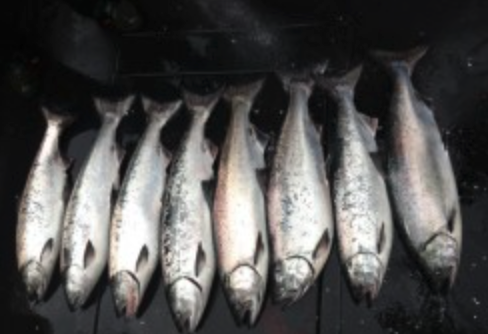 Despite a very strong herring spawn, early indications suggest the bulk of both the local and migratory Chinook runs are arriving on a schedule similar to last season. This should mean we're in for a very good July. Marble River returns are expected to be strong, and we will likely see a considerable amount of Columbia and outer island fish as well.
Early indications again suggest the fish are assembling and feeding in shallow nearshore shoals. Like last year, some of the most productive fishing has been in as little as 100′ of water in the nearshore structures of our main points of land. The smaller bait patterns are most effective, so AP Anchovy, Gibbs Skinny Gs, and any good glow/green needlefish like Sound Wave J32 are particularly effective.
All the operators in Winter Harbour report being well-booked and busy for this coming year. If you would like to see what all the fuss is about, please reach out to one of the many great businesses in our area. Whether you want to book a fully guided accommodation package, or bring your own boat and RV, we have options for you!
For more fishing reports, click here
For information on visiting Winter Harbour, click here